Your eMoneySpace is empty now, put content here!
SEASA
ptcupgrade
just for test
1. Optimalbux
100% ROI
waiting 100% ROI
29-SEPT-2018
$48.5
OPTIMALBUX 2nd payment (ROI 70%)
2. Scarlet-click.info
invest $155, cashout soon
3. Clixuniverse $invest 5, Cashout $4.6
4. Rothabux.com invest $22, cashout -

sdfgsdfgsdfgsdfg
you should not payout to keep your RR avg high, keep reinvest anything you got from the site.
this will make your RR avg keep high, but this will not get your money back.
Also, keep your Rent Refferal >15 days, to keep RR avg high
once you turn off autopay, and RR<15 days, it will greatly decreased your AVG.
In my real case

, i have RR that clicks 7/day, i turn off autopay,
when that RR reach <10 days left, clicks decrease to 4/day, it happend day by day until 4 days left,
i was trying to extend that refferal, to 150 days,
surprisingly, it increased again be 7 clicks/day.

i watch my rent refferal the click, 1 by 1 because not too much RR at that time.
so my conclusion is, if your RR <10 days left, it will decrease your rent refferal clicks, which mean, you will lost money.
greatly decrease avg is when i will payout, All my RR clicks decrease, maybe >300 clicks down.
that happend again and again, i decide to turn off my auto pay and take back what mine,
when i collect enough balance which mean 100%ROI, i start to do autopay.
at this rate, i have my 100% ROI in my balance, and whatever my account at the rest RR is my profit.

i got my payment at 29-Sep-2018, $48.5.
again it surprise me, 100 of my RR at that day 29-sep-2018, did not click.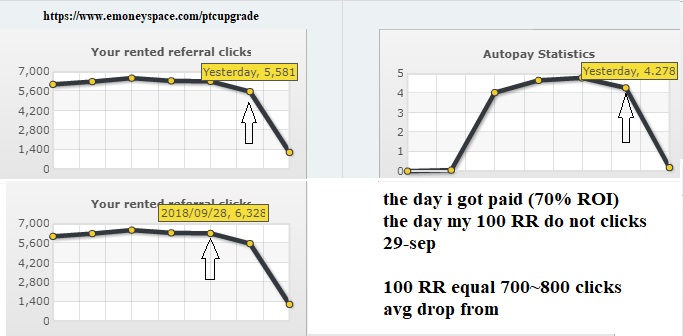 well you can make your own conclusion,
in my case, i do not reccomend invest to site that playing arround with RR clicks.
it preety hard to get your money back, serriously.
whatever thing happend to my account, now i am A ZERO INVEST with premium account and the rest RR.

REMEMBER, YOU CAN CALL PROFIT, WHEN ALL OF YOUR INVESTMENT BACK TO YOU 100%
noted: THIS IS MY OPINION, IF YOU ASK MY OPINION, WELL THIS IS. I AM NOT JUDGING OPTIMALBUX IS BAD SITE, IT'S GOOD SITE. THEY GIVE ME CHANCE 100% ROI IS PROOF ENOUGH THAT THIS IS GOOD SITE.